Gold Medal Waters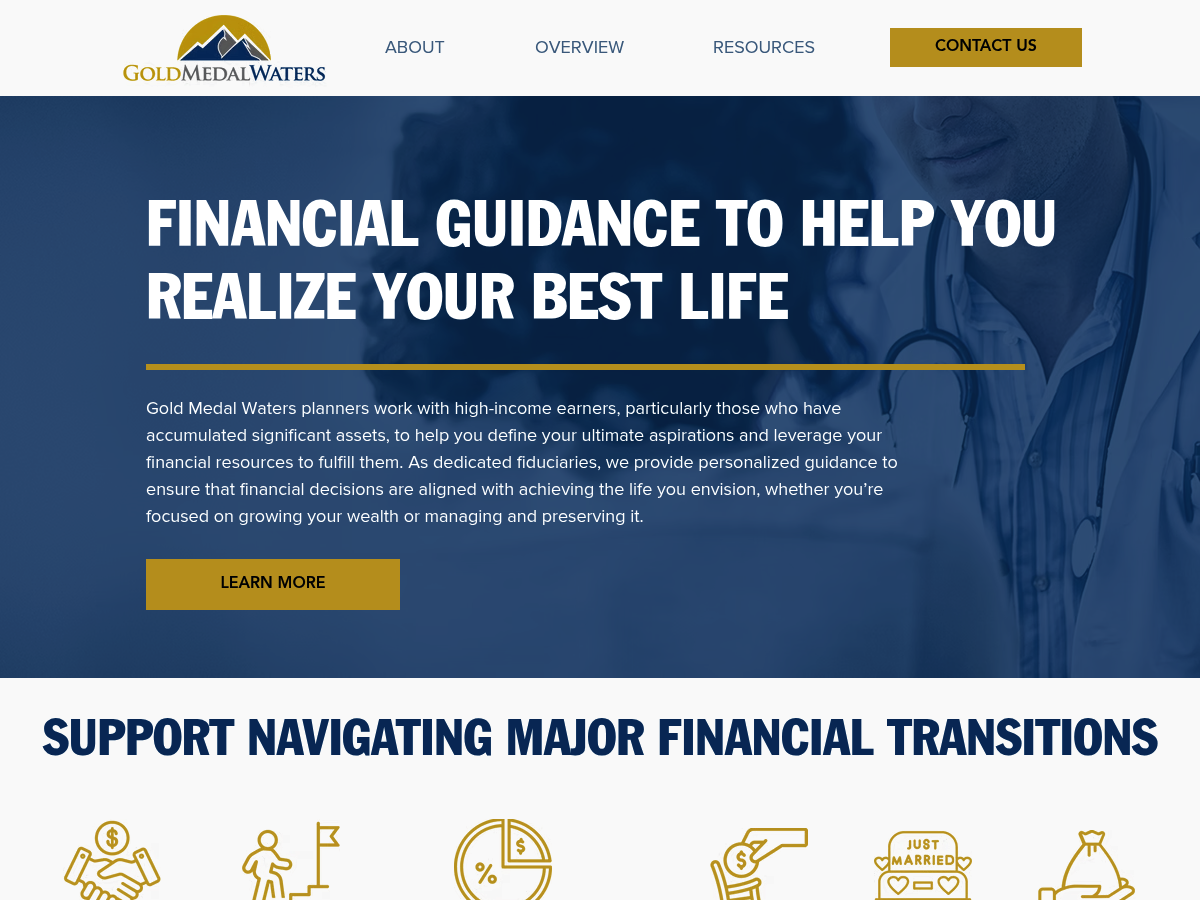 Company Description (LinkedIn): Gold Medal Waters is a fee-only financial advisory firm that serves individuals, families, foundations and company retirement plans such as 401(k)s and 403(b)s. We started out as a small independent firm in Boulder and recognize that the growth and success we are experiencing is a direct result of maintaining our core values and our focus on serving physicians. As of today, we mainly operate throughout Colorado and Illinois; including Boulder, Denver, Fort Collins, Colorado Springs, numerous smaller Colorado mountain towns, and Chicago. With the aid of teleconferencing, our financial advisors and CFPs increasingly work with clients all over the United States.
We believe that our client's future happiness depends on the work we do today. That proper financial planning and systematized investment management decreases negative stress and increases well-being, leading to better outcomes. That's why we're dedicated to pairing our clients with real people who deliver advice with warmth, understanding and privacy.
Our mission is pretty straightforward - we want to make sure that after each conversation, you feel an increase in control and a decrease in anxiety.
Areas Where We Can Help​: Debt Management, Education Planning, Estate Planning, Practice Management, Retirement Income, Risk Management & Insurance, Investment Portfolios, Retirement Planning, Tax Planning, Asset Protection, Employee Benefits, Charitable Giving
⏳ Active Since: 2004
📍 Location: Boulder, CO
🔢 Employee Count: 10
👥 Followers: 503
From SEC filings:
💁 Advisory Services Offered
Financial planning services
Portfolio management for individuals and/or small businesses
Pension consulting services
Selection of other advisers (including private fund managers)
💲 Compensation Options
A percentage of assets under your management
Fixed fees (other than subscription fees)
Accounts
💰 Total AUM ($Millions): 155
🧾 Number of accounts: 571
🛍 Average Account Size: $271,373
View more details on Wealthminder 🔗
External Links: