McDonough Capital Management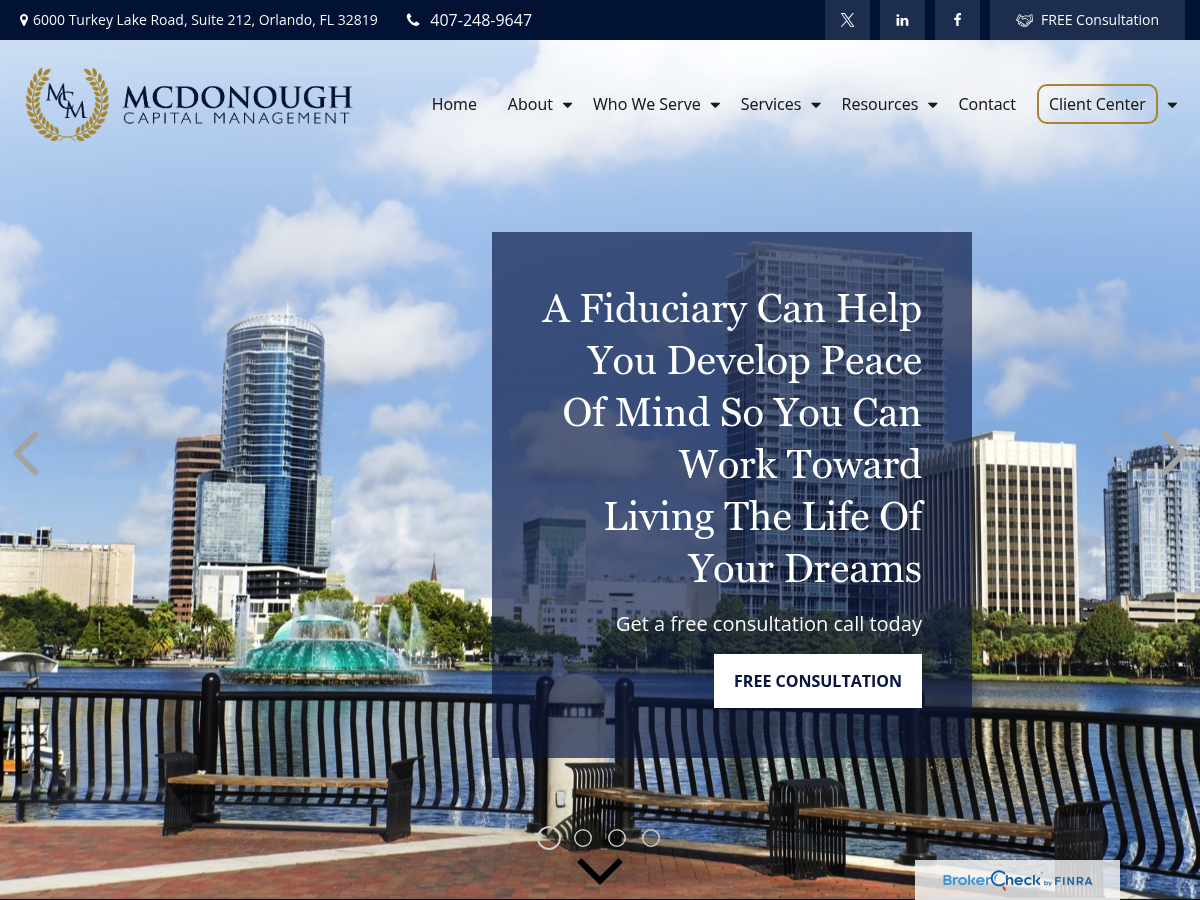 Company Description (LinkedIn): We were founded with the goal of assisting our clients in every aspect of their financial lives. We encourage you to call us at 1-800-741-0380 to learn more.
McDonough Capital Management provides customized financial planning services on a one on one basis. We focus on retirement planning, investments, wealth management, business planning, tax planning, 529/education planning, estate planning, insurance planning, and tax preparation.
As an Independent Registered Investment Advisor and Certified Financial Planner, we act as a fiduciary. We put your interests first. We do not have proprietary products or operate with quotas the way many insurance representatives, stock brokers, or bank representatives do. We are not employees of a major bank, broker, or insurance company hired to represent that firm. We represent you not the institution. Our primary goal is to help you reach your financial goals and objectives.
You can expect to receive the utmost in personal service from our office. We have assembled an attentive staff utilizing state of the art computer technology. For more information, we invite you to explore our website. If after reviewing the website you feel that you would like a free no obligation initial consultation or a free no obligation portfolio technical analysis, please do not hesitate to contact us. We invite you to see for yourself the commitment to excellence that my staff and I provide for our clients.
Independent Registered Investment Adviser Custodians: TD Ameritrade Institutional and National Financial Services LLC | Fidelity Investments Securities Offered Through Triad Advisors, LLC | Member FINRA/SIPC Advisory services offered through McDonough Capital Management McDonough Capital Management is not affiliated with Triad Advisors, LLC
Follow Us on Facebook: https://www.facebook.com/McDonoughCap
Follow Us on Twitter: https://www.twitter.com/McDonoughCap
⏳ Active Since: 1999
📍 Location: Orlando, FL
🔢 Employee Count: 4
👥 Followers: 71
From SEC filings:
💁 Advisory Services Offered
Financial planning services
Portfolio management for individuals and/or small businesses
Portfolio management for businesses (other than small businesses) or institutional clients
Educational seminars/workshops
💲 Compensation Options
A percentage of assets under your management
Accounts
💰 Total AUM ($Millions): 111
🧾 Number of accounts: 417
🛍 Average Account Size: $266,045
View more details on Wealthminder 🔗
External Links: