Shearwater Capital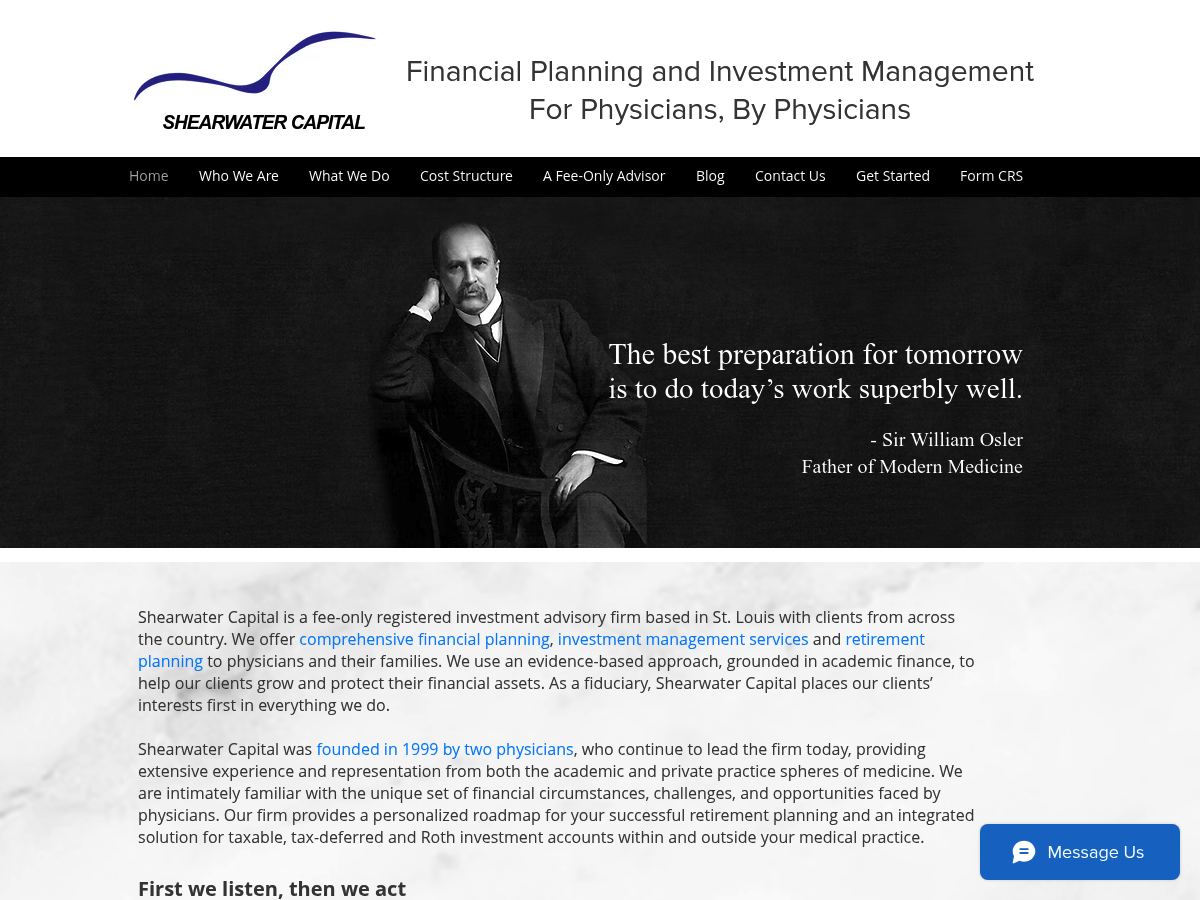 Company Description (LinkedIn): As physicians themselves, our company founders have first-hand experience with the financial issues and challenges commonly faced by physicians. They also have over 40 years of experience between them as professional investment advisors helping other physicians and their families secure their financial futures. This unique history provides Shearwater Capital with an unmatched background and core competency in serving the investment management and financial planning needs of our physician clients.
Shearwater Capital is dedicated to helping you and your family attain financial security using a scientific, evidence-based approach. As a fiduciary financial advisory firm, we have a legal responsibility and moral obligation to put your interests first in everything we do.
Learn more at www.shearwatercapital.com
SC does not affect or attempt to effect transactions in securities and does not maintain custody of client's funds or securities. Investment products are not obligations of or guaranteed by SC or its affiliates, and are not insured or guaranteed by the U.S. Government. Such products are subject to investment risk, including possible loss of principal. Mutual fund share prices fluctuate and there is no assurance that the objective of any fund will be achieved. Mutual fund shares are redeemable at the then current net asset value, which may be more or less than their original cost. For more information on any funds recommended by SC as investment advisor, contact the fund's distributor for a prospectus. The prospectus contains important information about a fund's investment objective, sales charges, expenses and risk considerations. Please read the prospectus before investing in a fund.
Future returns may be impacted by material market and economic factors which may in turn impact a client's actual results. Actual returns reflect reinvestment of all earnings less management fees, underlying mutual funds internal administrative expenses, and transaction fees.
⏳ Active Since: 1999
📍 Location: St. Louis, MO
🔢 Employee Count: 1
👥 Followers: 65
From WCI application:
From SEC filings:
💁 Advisory Services Offered
Financial planning services
Portfolio management for individuals and/or small businesses
Portfolio management for businesses (other than small businesses) or institutional clients
Publication of periodicals or newsletters
Educational seminars/workshops
💲 Compensation Options
A percentage of assets under your management
Accounts
💰 Total AUM ($Millions): 280
🧾 Number of accounts: 661
🛍 Average Account Size: $423,243
View more details on Wealthminder 🔗
External Links: