TrueNorth Wealth/Idaho Medical Association Financial Services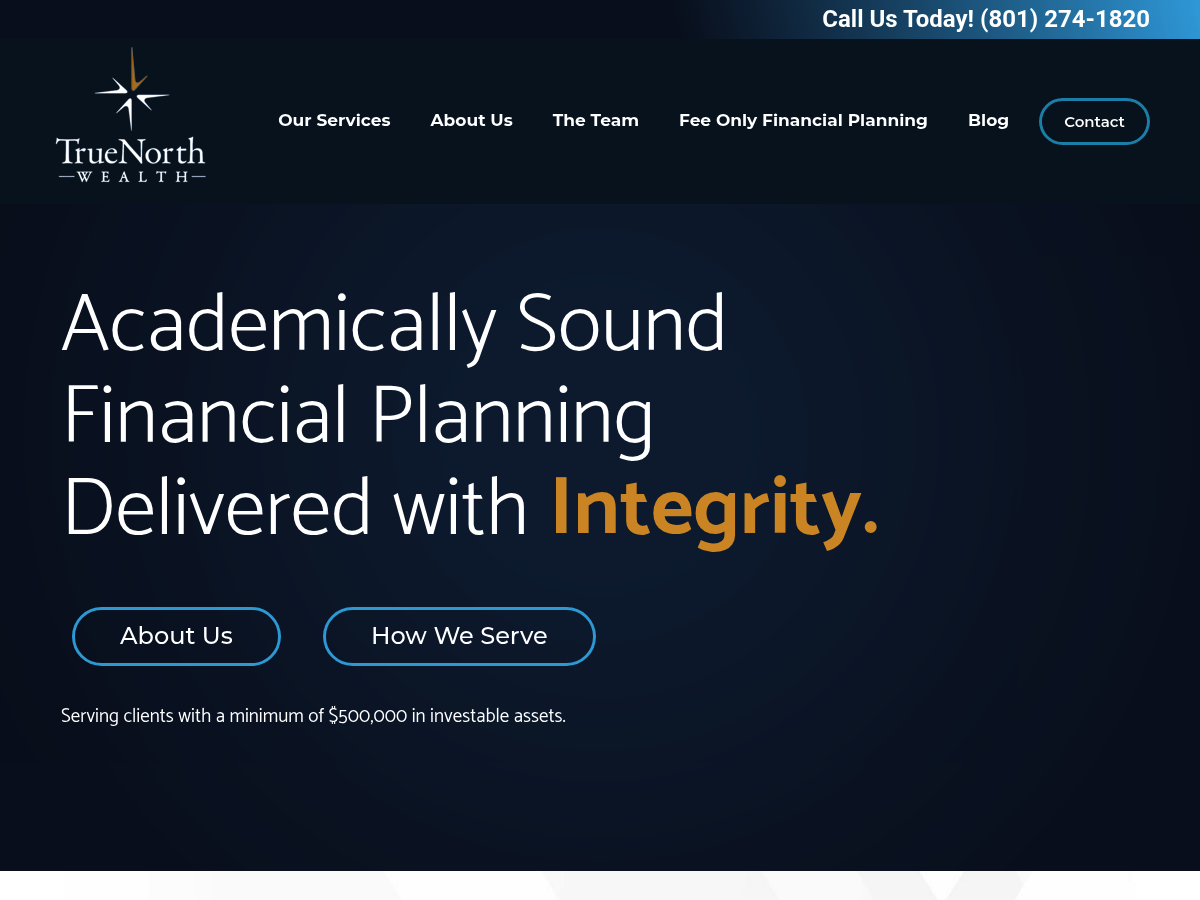 Company Description (LinkedIn): There are a lot of financial advisors out there—so what makes us different?
We are among a unique contingency of independent financial professionals who truly act in the best interests of our clients. The advisors at TrueNorth Wealth are Certified Financial Planners (CFP), the most difficult designation for financial practitioners to acquire. The Certified Financial Planner Board of Standards is a regulatory organization that creates and enforces standards of competency and ethics.
Not only does this mean we are well versed in all areas of financial planning, but we also have a fiduciary responsibility to our clients. We always put the client's best interests first.
We are fee-only, meaning our decisions are not colored by commissions or affinity kickbacks. Our primary and only interest is your financial success, not the bottom line of an investment company. Many investment advisors or brokers are only interested in completing a transaction, receiving a commission, and moving on. At TrueNorth Wealth we focus on building a long-term relationship that will help you reach your financial goals.
We also offer comprehensive planning that takes into account the larger picture. Instead of receiving segmented advice on estate, income tax, retirement, investment, and insurance planning; we help you bring it all together to work in your best interest. Regular reviews of your financial plan allow us to foresee potential problems, give you advice based on the current political and economic climate, and plan for any major life changes.
We don't speculate in private placements or other alternative investments. We use only highly available, registered funds from investment companies whose philosophies match our passion for premium performance.
At TrueNorth Wealth integrity and our commitment to our clients comes first. We stay true to your direction and your wealth—not ours.
⏳ Active Since:
📍 Location: Salt Lake City, Utah
🔢 Employee Count: 9
👥 Followers: 101
From SEC filings:
💁 Advisory Services Offered
Financial planning services
Portfolio management for individuals and/or small businesses
Portfolio management for businesses (other than small businesses) or institutional clients
Pension consulting services
Publication of periodicals or newsletters
Educational seminars/workshops
💲 Compensation Options
A percentage of assets under your management
Hourly charges
Other
Accounts
💰 Total AUM ($Millions): 880
🧾 Number of accounts: 2,452
🛍 Average Account Size: $358,867
View more details on Wealthminder 🔗
External Links: